LAYHER COMMERCIAL 
&
 INDUSTRIAL
HEAVY-DUTY SCAFFOLD TOWERS 
&
 SHORING/PROPPING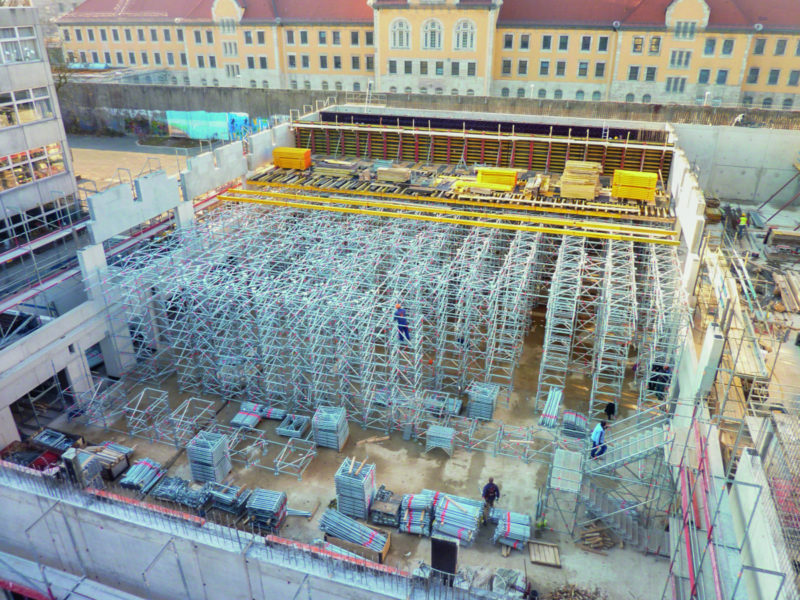 HEAVY-DUTY SCAFFOLD TOWERS – SHORING, FORMING AND PROPPING
Layher scaffold towers and support scaffolding systems are easily, logically and quickly assembled from a few parts to take on the heaviest loads and toughest, most complex tasks.
Heavy-duty 6 m (20 ft) Allround® scaffold towers' permissible loadings can be increased considerably by using Layher's reinforced base jacks and head jacks (U-heads) additional bracing, ledgers, diagonals and/or joining standards with Layher's unique twin wedge couplers.
In applications exceeding the load-bearing capacities of traditional scaffold towers, it is possible to use heavy-duty towers and columns constructed with Allround® Scaffolding. Heavy-duty spindles and specially designed heavy-duty top and bottom collars allow clustering of standards.
FOR ULTIMATE BEARING CAPACITY CHOOSE STRONG – CHOOSE LAYHER.
Combining four Allround® standards achieves an extremely high load-bearing capacity. This type support can be used in multiple arrangements with various load-bearing capacities–a heavy-duty tower or a heavy-duty column–and expanded with ease to meet irregular, complex jobs effectively.
Layher's Allround® Scaffolding makes an ideal shoring/propping system–it has extremely high strength capacity values, is self-supporting and is quick to install. Being both scaffolding and a propping system it is economic and versatile.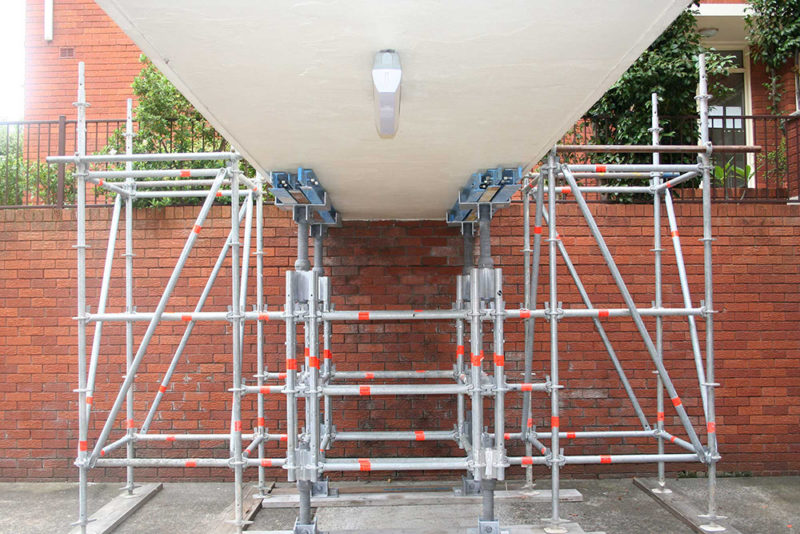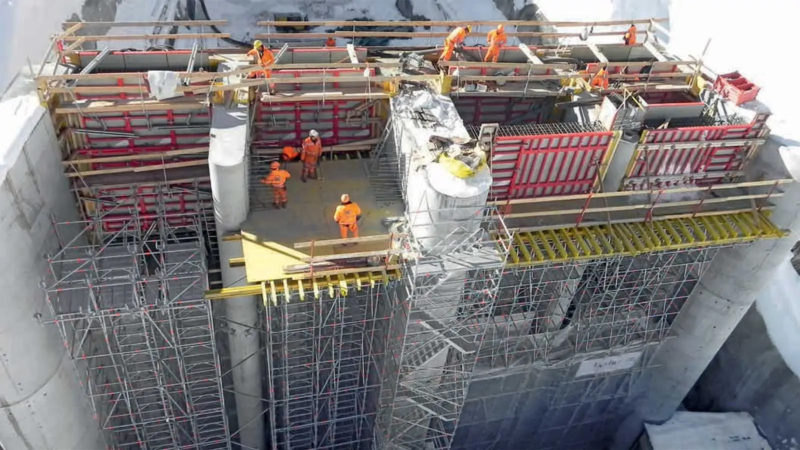 THE BENEFITS OF LAYHER HEAVY-DUTY SCAFFOLD TOWERS
Superior system technology
ISO 9001 TUV certified
Certified consistent component quality
Stable structure from base out
Adaptable-components can be used for propping or general scaffolding
Ease of assembly and disassembly-logical assembly sequence, exact height adjustment, typetested
Safety-load-locking claw connection is certain
Economics-optimized, system-based, easy to use first-quality products
NIQUELY FLEXIBLE
Durable aluminum deck with sturdy and riveted steel cap.
Layher Allround Scaffolding has become a synonym in the marketplace for modular scaffolding. The fast, bolt-free system technology with AutoLock function permits connections that can be automatically right-angled, or with a variety of other angles as required — all with built-in safety.
The Allround system's flexibility offers an unmatched variety of uses, including scaffolding for work sites, protection, facades, or for support as internal/birdcage scaffolding or as rolling towers. It is the ideal choice for the most difficult layouts and the most restrictive safety requirements. Allround is used in a number of industries: construction, chemical plants, power stations, and shipyards.
The range of available accessories gives Allround Scaffolding its versatility to adapt to any need. With the correct engineered design and a few accessories specific for shoring, you can create the simplest bay or the largest structure for shoring and propping.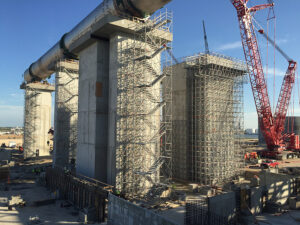 A MILESTONE IN SHORING CONSTRUCTION
Together with Layher Allround equipment, the TG 60 shoring frames create even more possibilities. With TG 60, shoring can be built thirty percent faster, higher, stronger, and safer. The TG 60 shoring frames, available in three sizes, are made of extra-strength steel tubing and are provided with Allround rosettes. The TG 60 frames are an integral part of Allround Scaffolding and can be integrated without any problems into any birdcage scaffolding. TG 60 shoring towers can be easily adapted to the specific needs of the structure, terrain, or configuration/dimension of the formwork supports. The ground plan of the TG 60 is due to the 1.09 m (3 ft 7 in) wide frames and the Allround ledgers used, from 1.09 m (3 ft 7 in) to 3.07 m (10 ft 1 in).
The TG 60 can also be used as a substructure for pre-assembled slab tables. Thanks to a tension-proof connection of the head jacks with the slab tables, the unit can be moved by crane complete and in a time-saving way. With attached wheels, the slabs can be moved horizontally inside a story level. The innovative assembly sequence and the integrated access aid make the assembly of a shoring tower safer than ever before. During upright assembly, you are always protected by an automatically integrated side protection – without the need for additional safety equipment.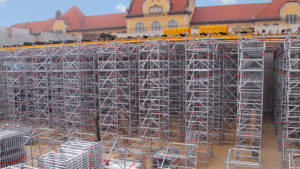 STRONGER, FASTER, SAFER
With Allround Heavy Duty Shoring, support structures for formwork on massive floors can be constructed easily, quickly and safely. Combining the Allround system with 4 HD shoring parts enables the load capacity to be multiplied many times over.
Access openings for floor conveyors or trucks can be provided thanks to flexible matching. Allround Heavy Duty opens up almost unlimited possibilities for shoring and supporting structures of every type.
Very high load-bearing capacities can be achieved by combining four Allround standards using double wedge-head couplers 1.0 m (3 ft 3 in) or 0.5 m (1 ft 7 in) apart. The use of base plates and head jacks for the heavy-duty support, combined with appropriate top and bottom adapters, ensure concentric load transmission. The support can be used vertically, horizontally, or at an angle.
A 16-standard heavy-duty tower can be built by combining four heavy-duty supports using Allround O-ledgers and diagonal braces. Depending on the assembly height and wind load, the towers are rated for different load bearing capacities. The Allround system construction kit can be used to build towers of varying dimensions.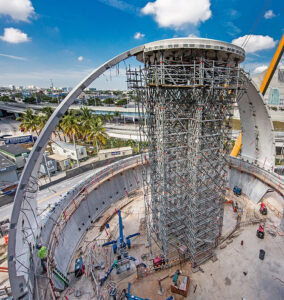 Let's Build Something Together!