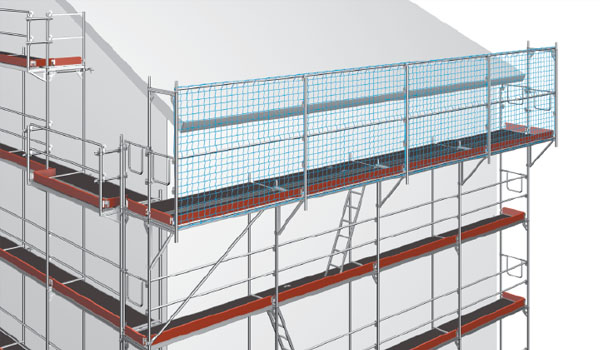 Industrial SpeedyScaf Equipment
With the Speedy assembly frame Lightweight, the Layher SpeedyScaf equipment has been the recognized leader for decades in insertion-frame systems. Modern, fast and robust, making it ideal for work on facades. Layher SpeedyScaf is, thanks to its versatile and well thought-out range of parts, equally economical to use in scaffolding construction and in professional trades.
QUICK AND EASY
With just six basic elements and a few manual operations, this logically erected scaffolding is "speedy" because it is assembled without bolts. Numerous expansion parts permit optimum adaptation to existing building geometries – without much extra effort during assembly. SpeedyScaf is available in different scaffolding widths, made of hot-dip galvanized steel or lightweight aluminium, for every application.
Guaranteed with building authority approvals:
SpeedyScaf 100 Steel Z-8.1-840 and
SpeedyScaf 70 Steel Z-8.1-16.2
SpeedyScaf 70 Aluminium Z-8.1-844
Brackets
SpeedyScaf can be quickly widened inwards or outwards: The brackets are fastened with the welded-on half-coupler in the corner plate area or in corner areas as swivel brackets, using the spigot of the Speedy assembly frame Lightweight, to form a deck level with the main scaffolding.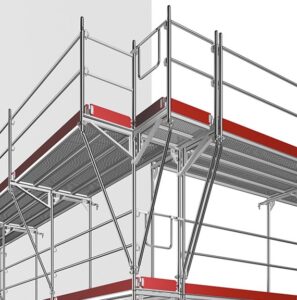 Anchoring
The scaffolding must be anchored vertically to and parallel with the façade, with resistance to both tensile and compressive stress. Layher offers quicker and safer solutions:
The SpeedyScaf wall tie, which is fastened by a double coupler in the corner plate area of the Speedy assembly frame Lightweight and is supported with the fork plate on the channel section of the Speedy assembly frame Lightweight.
The wall tie, which is connected with two double couplers to both upright tubes.
The SpeedyScaf Corner Plate Coupler
For outside and inside brackets, continuous anchoring directly on the corner plate of the Speedy assembly frame Lightweight using the top hole is possible and ensures a greater height clearance at the top scaffolding level.
The ETICS tie is used for a controlled introduction of high forces, parallel to the facade, when using thermal insulation compound systems.
The Speedy Vario wall tie system permits structurally favourable anchoring anywhere inside the scaffolding level, even outside the connectors of the assembly frames, for example in buildings with many windows, skeleton structures or in similar situations.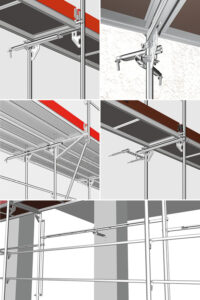 Roof Brick Guards
Roof brick guards must be used when there is any risk of slipping on the roof, and they are mandatory for a roof inclination of 20° and above. Either brick guards or protection nets can be attached to the brick guard support.
The aluminium platform and comfort stairways offer increased safety, convenience and speed when ascending the tower. Transporting material is made easier by using the work decks as all-round walkways too.
Stairways are highly recommended when:
extensive amounts of material have to be transported via this access,
the ascent height in the scaffolding exceeds 10 m, or
extensive work has to be carried out.
The landing-type stairway is connected using the U-distance coupler to the main scaffolding.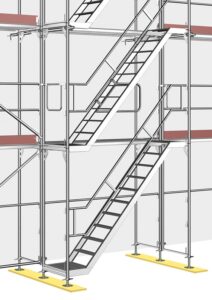 Layher weather protection roofs can be used in a number of variants depending on their span, the snow load or the wind load. That saves you real money when planning temporary weather protection roofs. For easy use on the site, clearly set-out material and loading capacity tables for snow and wind loads are available for you. Protective roofs are not a one-off solution for Layher, but a standard product – this ensures readiness for immediate delivery.
With its Protect System, Layher offers an enclosure system that fits in with Allround Scaffolding and SpeedyScaf. It is used for example for pedestrian protection in combination with the Allround Bridging System and also for environmental protection and noise reduction. Highly economical to use thanks to quick and easy assembly in a simple and logical assembly sequence, and the frequent use of a few system components. The Layher Protect System is not a one-off solution for Layher, but a standard product – this ensures readiness for immediate delivery.
Only a small number of individual parts.
Designed for regular use.
Visually attractive.
Quick, easy and logical assembly.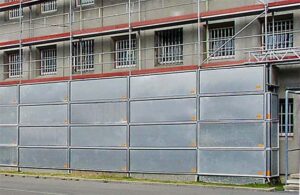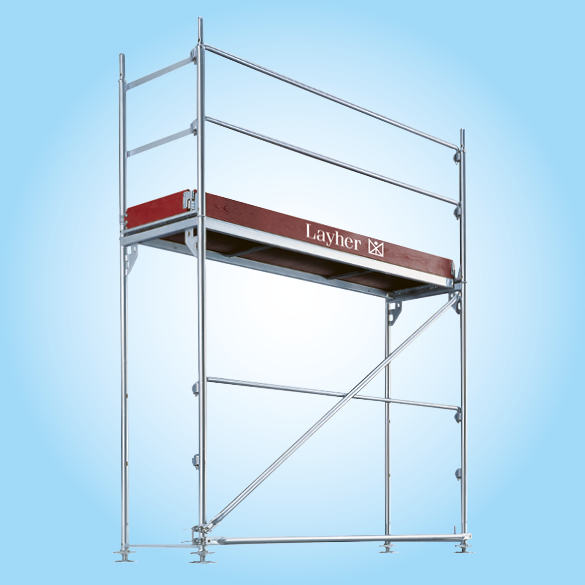 Let's Build Something Together!